E-commerce integration is a relevant issue in our digitally-driven world, where online shopping reigns supreme and manifests steady growth for years to come.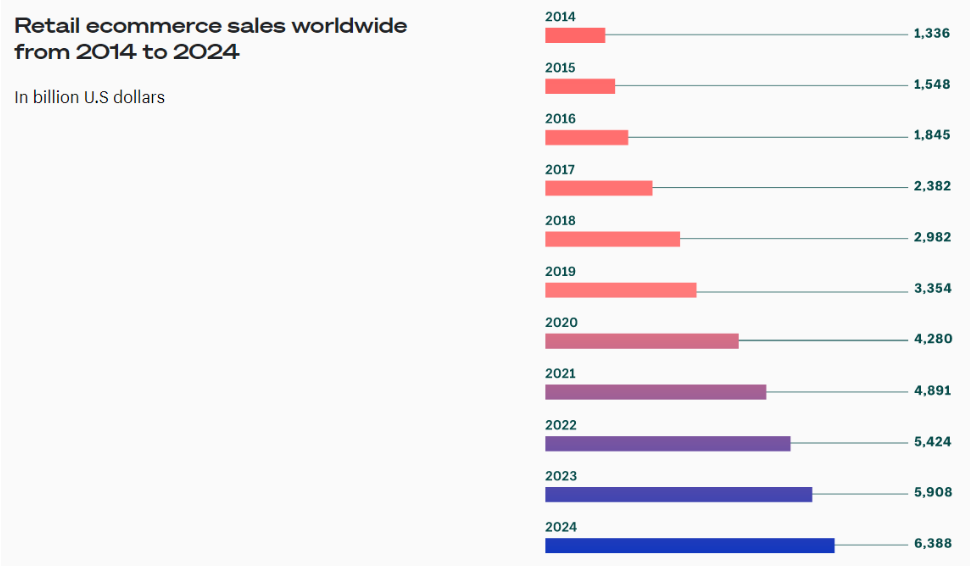 Why is it so important?
Because running an e-commerce store is a tough row to hoe. Entrepreneurs engaged in this domain must manage multiple workflow operations, take thought for advertising and promotion of their site, gain and retain the clientele, interact with suppliers, and do dozens of other errands to increase ecommerce sales and build a successful business in the industry.
How can you streamline and facilitate this ordeal?
Of course, you may moon over AI, blockchain, or data science use cases in ecommerce, but it is better to begin with basics and decide upon a robust platform for your e-store.
E-Commerce Platform Explained
According to different estimates, the global number of online shops in 2021 was at least 12 million (the more optimistic figure is twice that much), frequented by over 2 billion consumers. Most of these ventures kicked off as startups that scrimped and saved to get their e-store going. Naturally, such cash-strapped businesses can't afford to splurge on building a website from scratch, so for them, an ecommerce platform was a godsend. This is a full-package IT product that enables end-to-end management of an online retail enterprise. What services are included in a solution of this kind?
A garden variety platform (like Shopify, Wix Ecommerce, or Branchbob) contains a website builder, an inventory management mechanism, an accounting system, and a customer service infrastructure. The best ecommerce platform for middle business is typically a notch more elaborate product that provides a more comfortable shopping experience for the site visitors. The most sophisticated are the versions meant for large companies (such as BigCommerce Enterprise, Magento Commerce, and Squarespace Enterprise), which can process thousands of transactions per minute, leverage marketing automation, and allow the owners to troubleshoot technical issues if they crop up.
However efficient such a solution as a standalone product might be, an integrated ecommerce platform is a remarkably more powerful business mechanism.
Why is E-Commerce Integration Imperative?
Typically, an online store starts small and aspires to grow, setting big-time success as an ultimate goal. For some time, the inventory management database, the point-of-sale system, and interaction solutions to stay in touch with shipping providers that the platform offers are enough to satisfy your immediate business needs. Yet, as long as your brand upscales, you will find it increasingly hard to manage the volume.
Sooner or later, you will discover that various analytical and data science ecommerce solutions, marketing tools, and lots of other third-party IT products and apps can be highly instrumental in dealing with multiple shop floor processes. As a rule, they are provided by different vendors, so your data will be spread across several platforms, and you will have to shuttle between them a lot. Naturally, it does no good for the visibility of information as well as for the flexibility of marketing efforts and agility of customer service.
The only way to eliminate all barriers between different components of the enterprise software is to go for e-commerce integration and bind all tools and solutions into a single digital environment. By doing it, you will bring disparate workflow threads together to form a coherent fabric, a pattern on which is easy to read and modify. All the necessary historical data, contacts, and analytics will be at your fingertips to promptly adopt knowledgeable decisions and boost the efficiency of any routine pipeline operation.
To make the most of e-commerce integrations, you should realize what the must-have components are that you must incorporate into your platform.
The Main Types of E-Commerce Integrations
Being a seasoned player in the field of e-commerce, Bintime knows well what mission-critical integrations an online enterprise can't do without.
1. Customer Support
As statistics claim, 58% of consumers never return to an online store if their customer experience was a poor one. To counter such unpleasant developments, you should have adequate customer support in place. Traditionally, ecommerce support service is organized as a help desk that communicates with clients via emails or phone calls. Their complaints are then formalized as tickets the personnel of the enterprise must deal with.
This conventional system can be remarkably accelerated via the integration of the live chat tool, utilizing which customers can solve their problems in real time without having to wait for a response to the ticket indefinitely. Moreover, you can add an AI touch to the support service by making use of a chatbot. This software will automate the lion's share of issue handling since, as a rule, most complaints are standard or minor ones that can be addressed without the involvement of the staff.
2. CRM and ERP Integrations
Customer relationship management (CRM) is the principal tool utilized for collecting all kinds of customer data – from demographics to shopping behavior. As soon as you have a CRM integrated ecommerce platform, you will be able to turn the obtained information about your clientele into actionable insights that can be used to administer personalized marketing campaigns, step up upselling and cross-selling activities, perform demand forecasting, and generally upgrade your customer retention policies.
Enterprise Resource Planning (ERP) is another bedrock the efficient functioning of a modern digitally-driven enterprise rests on. If you manage to create an ERP integrated ecommerce solution, you will avoid redundancy, mitigate human errors, and enhance all shop floor processes within your company especially supply chain management, financial reporting, accounting, and compliance. Besides, it will bolster the connectivity across e-commerce operations if you have several brick-and-mortar outlets or multiple e-stores.
3. Cloud Services
When you are making your first steps in the e-commerce realm, your small-scale solutions based on the on-premises infrastructure will suffice for your rookie endeavors. Yet, nowadays, such a constrained approach to solving digital business tasks lives on borrowed time. To enter the major league of e-commerce, you should hydrate the cloud.
Cloud-based solutions usher a number of assets to e-commerce agents. They are flexible, scalable, and secure and offer virtually limitless storage facilities plus some extra services (like continuous deployment and disaster recovery) extended by cloud providers. Besides, by implementing cloud integration, you ensure uninterrupted operations of your company and avoid paying for downtime, thus saving a pretty penny that can be directed to the development of your business.
4. AR and VR Solutions
These technologies are all the rage in the high-tech world of today. Brands that onboard them report a 30% spike in customer traffic and treble increase in conversion rates. Why does it happen? Because of these innovations, online businesses can make the online shopping experience of consumers almost equal to the in-store one.
What are AR/VR use cases in the ecommerce field? Here are only some of them.
3D asset creation;
Virtual product demos;
AR/VR product demonstrations;
Virtual try-ons of clothes;
Entirely virtual mobile shopping.
5. Reliable partner
Without a competent and trustworthy partner all your efforts aimed at an adequate e-commerce integration are doomed to defeat. That is why you should adopt a sensible approach to the choice of an IT vendor who will perform the integration job for you.
To hire a reliable and competent partner, you should opt for one that has:
A solid portfolio.
Looking through it, you can not only discover if the company had a previous experience of delivering similar projects (aka case studies). This section of the vendor's website contains also such relevant information as the term of presence in the niche and domains of expertise the company specializes in.
Good references from former customers.
You can skim the site for the testimonials, but it is better to contact the clients mentioned in them and learn firsthand what they think of the delivered product and how satisfied they were with the cooperation.
High position in professional rankings.
You should take into account only the niche guides with high reputation in the IT industry. If the company is ranked high on Clutch and Good Firms, the odds are that they are a good choice for your e-commerce integration project.
Companies that excel in all these aspects are capable of both delivering a top-notch product and implementing new opportunities for your e-commerce venture. They are sure to have experience and expertise (acknowledged by the obliged customers) to fulfill your project as well as offer their own vision on how to improve your general concept and bring the most value to your business.
When properly employed, these e-commerce integrations can usher essential perks to online entrepreneurs.
The Most Weighty Fully Integrated E-commerce Platform Benefits
If you choose e-commerce integrations wisely, you are sure to get the following boons:
Better customer experience.
An integrated ecommerce solution has all the necessary tools to implement the overarching goal of any business – obliging the customer. They can access in real-time any information on the inventory, price, order tracking, etc., and get in touch with the company to clarify some details or solve problems if they arise.
A clearer view of the business.
There are three types of data e-commerce entrepreneurs rely on in their work: financial, product, and consumer. If they are kept in different virtual locations, the efficiency of decision-making is crippled. By integrating all databases, you can obtain a comprehensive picture of your company and thus be more knowledgeable in shaping your business strategy.
More accurate and reliable data.
Without an integrated ecommerce product, your data gets siloed. It spells inaccuracies, inconsistencies, incompleteness, and irrelevance of dossiers hoarded in separate storages. E-commerce integration will enable you not only to improve the quality of data but also apply to it data governance mechanisms (for instance, extract, transform, and load operations known as ETL). Besides, after you have accomplished all major e-commerce integrations, you can make use of the best BI practices.
Conclusion
The realm of e-commerce is known for its intense competition. Players in the niche go to all lengths to provide maximum satisfaction for their customers, which is impossible without utilizing disruptive know-how. One of the methods that will give your online business a powerful boost is e-commerce integration consisting in combining your basic e-commerce platform with other state-of-the-art technologies. It can give your company the most value if it is implemented by high-profile IT specialists who deliver what they promise.
Bintime ticks all the boxes as to the optimal choice of vendor to perform any kind of e-commerce integrations. Our seasoned mavens will conduct a thorough audit of your existing solution and offer its augmentation with tools and apps that will suit your organization to a tee. Contact us to make your e-commerce dream come true.